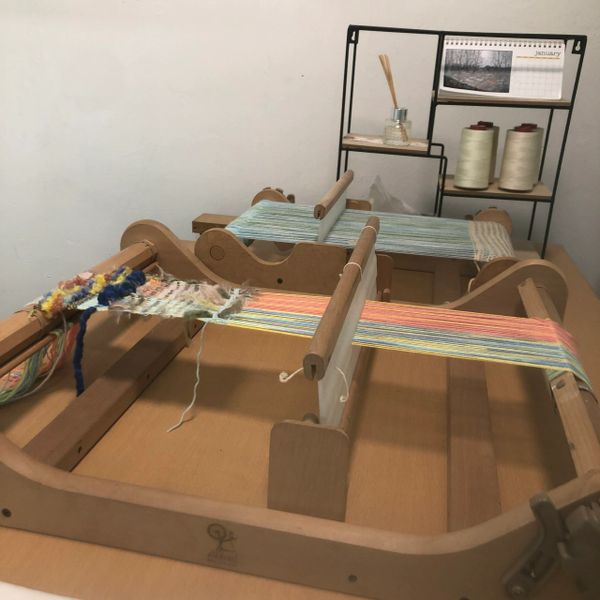 This is a full list of courses and classes taking place at Liliane Design Studio - Baldock, Hertfordshire throughout the coming year 2020.
Extra dates are available for Private tuition, events, and group bookings.
Make a woven wall hanging
11th and 25th March, 10am-12pm - £20 (or book both classes for £30)
Learn ways to create bumps, lumps, waves and spaces in your weaves. Try a range of supplementary weft and knotting techniques to make your woven panel truly unique.
Designing and making a warp for a 4-shaft Harris table loom. (1)
22nd April, 10am-1pm - £30
Plan a project for a 4-shaft loom. Select yarn colours, and wrap a warp using a warping frame or mill. This class will also cover the basics of reading a pattern draft.
Dressing the loom – threading up a 4-shaft Harris table loom (2)
29th April, 10am-1pm - £30
In this class you will learn how to transfer your warp wrap to the table loom, attach it, wind it on to the back beam and thread the heddles on each shaft in a lifting sequence and tie onto the front beam.
Weaving cloth on a 4-shaft Harris table loom – (3)
6th May, 10am-1pm - £30
Weaving tips and techniques for a neater selvedge. Following a lifting plan, create a wide variety of patterns from a simple plain draft threading.
Weaving cloth on the 4-shaft Harris Loom – (4) 
13th May, 10am-1pm - £30
This class will cover weaving, removing from the loom and finishing your cloth. We will explore hemming stitches, and other methods of edging your weaves such as warp end twists, plaits and knots.
For a weaving course with a 4-shaft loom please select all four workshops, designing & making warp, dressing the loom and weaving cloth 3 & 4.  – A full course (12hrs) will be charged at the reduced rate of £90.
Make a handwoven cotton placement set on a table loom
25th April, 10am-3pm - £45
Create your own set of cotton placemats for a contemporary table setting. Work on a pre-set loom with a choice of colour palettes and patterns. During the session we will weave, wash, press, and finish your cloth with stitch.
Weaving textured woollen cloth on a 'Rigid heddle' loom
23rd May, 10am-3pm - £45
In this class we will be working with Pure British Wool, using special techniques to create two tone natural looking woven cloth. We will then explore the process of fulling and felting to finish the appearance of your weaving and get the most wonderful results in surface texture created by taking advantage of the natural properties of the pure wool yarns.
Loom woven textiles course – An Introduction
2nd – 23rd June, 1-3pm or 27th-28th June 10am-3pm - £120
Design a warp, make a pattern draft and set up your loom to weave a project.    
Art fabrics
17th June, 10am -1pm - £20
Print colour and images onto cloth with stencils, stamps, fabric paints, dyes and heat transfer methods.
Freehand machine embroidery
24th June, 10am -1pm - £20
Create a range of artwork in this workshop using selected freehand sewing styles. Drawing with thread, Appliqué, cutwork and couched threads will be covered.
Dressing the loom – The direct warping method for a 'Rigid heddle' loom
1st July, 10am-1pm - £25
This workshop will take you through each step to design, plan, wrap and thread your own designs on a Rigid heddle loom.
Weaving textured cloth (Pre-set loom)
8th July, 10am -1pm - £25
Experiment with an exciting range of textured art yarns in your woven cloth and incorporate them using clasped weft and warp pick techniques.
Fashion fabrics
16th September, 10am -1pm - £20
Learn techniques for manipulating cloth using Pleats, folds and gathering. Make a range of couture quality cloth samples.
Slow stitch
23rd September, 10am -1pm - £20
Learn a range of hand stitches to use along with Patch & Fray techniques to create exciting layered cloth.
Woven patterns on a 'Rigid heddle' loom
26th September, 10am-3pm - £40
Create a beautiful length of cloth in a sampler pattern during this class. We will explore 4 threading patterns, using only 2-3 colours and a mirrored warp and weft design.
Yarn dyeing
11th November, 10am-1pm - £25
Mix your own palette of colours with acid dyes and use them to colour 4 x 50g hanks of art yarn to use in your weaving, knitting or craft projects.
Freestyle weaving on a Rigid heddle loom
18th November, 10am-1pm - £25
A pre-set loom can be provided so you are able to get on with selecting your yarns and practicing techniques to make an exciting and original woven cloth.
For course and class bookings all materials and equipment are provided for you along with tempting refreshments. 
Workshops will take place at our new studio...
43C London Road Industrial Estate,
Baldock, Hertfordshire, SG7 6NG
Free parking is available - There is space for a few cars just outside and a further car park available close by.
We are situated a short walk away from Baldock train station and a good bus service also operates in the area.