Make a woven wall hanging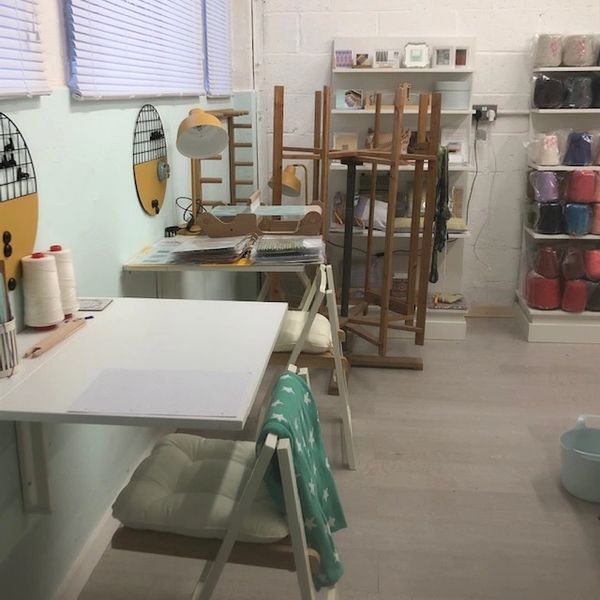 Learn how to create bumps, lumps, waves and spaces in your weaves.
Use supplementary weft and knotting techniques to make a woven panel that is truly unique in design.
A wide choice of coloured and textured yarns are available for you to use on your visit to the studio.
A frame loom and all the tools and equipment you need will be provided for you and we will start from the beginning with the warping process.
Inspirational landscape photography will be displayed to help inspire our weaving, but of course you are welcome to bring along an image of your own to work from if you prefer.
This is designed to be a fun and informative workshop suitable for beginners to weaving although everyone is welcome to join us!
This will be a relaxed class in a small group, the studio is well equipped and has lots of light pouring in...maybe not so much during  the evening classes though!
We also have a lovely complimentary selection of coffee/tea and biscuits to offer you too.
A little about the tutor...Amy Wilson

Amy has over 20 years experience in Fashion textile design and has been weaving for the past 12 years.
After graduating from a Fashion degree at the London College Of Fashion (2003) she then went on to establish her own design practice. She returned to education (2008) to complete a woven textile design degree at Norwich University of the Arts and has recently completed a five year fellowship with the Digswell Arts Trust based in Hertfordshire.
Amy has been running Textile courses, classes and workshops in Colleges, Arts centres, at Digswell Arts and for local groups since 2012 as well as working on woven sample designs and her own ranges of hand woven cloth.