Loom Woven Textiles Course - Winter 2020 An introduction to woven textile design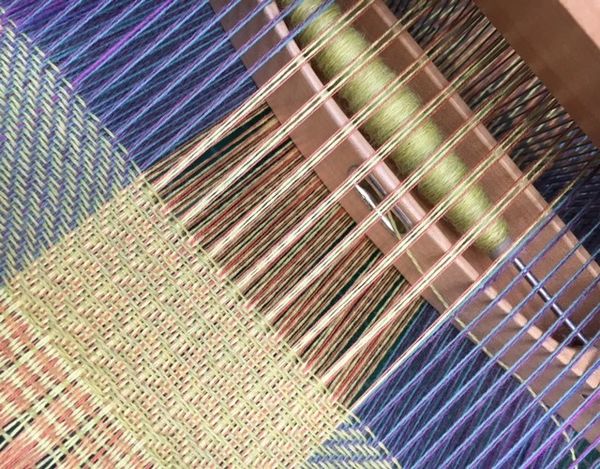 The new 8 week woven textile design course will be a great introduction to weaving. It is a weekly course and  can be taken over 8 classes in 2hr workshop blocks. Exact dates and times are flexible, please contact me to discuss. (Amy 07788 677715))
The weaving courses we offer are suitable for both beginners to weaving and those with some previous experience of this fascinating and absorbing traditional craft. This course offers a more structured approach to learning, patterns are provided and we will work in a methodical way through a library of designs in order to gain a good understanding of colour weave structures. 
Either Modern Ashford Rigid Heddle or traditional 4 shaft Harris looms will be set up with fine cotton or wool yarns ready for you to experiment on with a range of woven sampler patterns.
Exploring a variety of different loom threading orders, you can weave Twill, Tabby, Basket and houndstooth, and make a range of sample fabrics in checks, stripes and diamond patterns. 
This course will also cover all the basics of reading a pattern draft and the principles of creating a balanced cloth. 
During the course you can choose to create a collection of sample cloth in traditional colour patterns, or design & create your own woven cloth for a project of your choice.
Classes can take place, on request at a time and date convenient to you...Daytimes, evenings and weekends are available to book.
The weaving course is suitable for groups of 2 or more people - or the private tuition rate will apply if you would like to book a bespoke course for one person.

All materials, Course pack, equipment, and refreshments are included in the price. 
Find us at:
Unit 43c,
London Road Industrial estate
Baldock 
Hertfordshire 
SG7 6NG
Free Parking is available on site.
All precautions will be taken with regards to the health and safety of our customers.
The surfaces and equipment will be sanitised both before classes and between attendees. You will be asked to wash your hand on entering the workroom, masks will be provided, as although we will try, social distancing may not always be possible at times. If you are feeling at all unwell you are asked not to attend the studio under any circumstance.