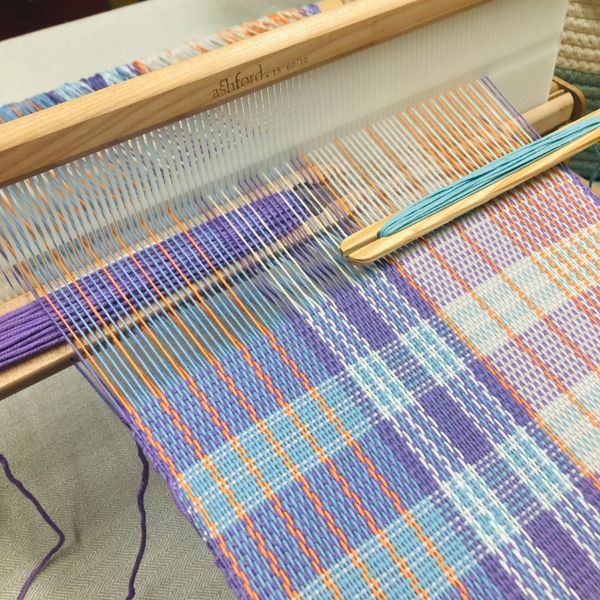 Workshops A/W 2021
Introduction to weaving (2hr) - £25
In this creative class you will be introduced to the wonderful craft of weaving. 
Choose from pre-set Rigid heddle looms to try out or make a simple woven wall hanging working on a frame loom.
We will cover freestyle designs with plenty of colour, texture and a range of tapestry techniques.
Loom woven cloth - Rigid heddle and 4-shaft loom introductions (4hr x 2) or (2hr x 4) - £85
A class suitable for beginners to the craft of weaving offering a practical introduction to all the stages involved in the weaving process.
Plan a design, make a warp, dress the loom and learn techniques for weaving your own fabrics by hand.
Woven textile design workshop (2hr) - £25 If you would like to spend more time learning about the design process and how to make your own unique patterns for woven cloth then this is the class for you! (Planning and drafting patterns).
Special classes (4hr) - £65 per person 
For participants with previous weaving experience only. These workshops offer something a little bit more advanced and aim to develop your knowledge of dyeing for weave, woven design and cloth structures.
-Double cloth
-Twills and colour patterns 
-Hand painted warps - landscapes 
-Dye workshop - simple yarn dyeing techniques 
Weekly weaving class (10 x 2hr) - book a block of 10 weeks for £100 (for those with some previous experience or/and who have completed an introduction class or course).
Work on your own projects and ideas, be inspired and help on hand from an experienced weaver as and when required. 
All classes include the materials, tools and equipment required for your weaving along with light refreshments.
You can book classes and visit the studio on weekday mornings (10-12pm) and evenings (6.30-8.30pm)
Some weekend dates are available (10-2), including occasional Sundays, but will usually require booking well in advance.
Weaving Studio Baldock 
Autumn/Winter visitor opening hours:
Tuesday: 10-2pm & 6-8.30pm
Thursday:10-2pm & 6-8.30pm
Saturday: 10-2pm* 
(*first Saturday of the month from October - December )
Please note the studio will be closed 25th-29th during half term week.
All classes must be booked in advance.